It's been a few weeks since our trip to TwitchCon Paris — enough time to reflect on some fantastic events. As we returned home, our suitcases were packed with beautiful memories and plenty of positive feedback from you after our first offline presence. But let's start from the beginning and show you what made this trip so special.
The Sound Alerts TwitchCon Paris After-Movie
Relive some highlights from our two days at TwitchCon Paris through our official after-movie below. We want to express our deepest gratitude to each and every one of you who showed up and said hello on-site — you are a part of the Sound Alerts legacy now!
Phase 1 — Preparations and Build-Up
It was our team's dream was to finally create an offline event experience for Sound Alerts. Doing that in style with a team size of 10 was a challenge we needed to face. From the initial idea onwards, months of planning from our team went into the realization of our 6x6m booth. To make everyone's visit more fun and worthwhile, we wanted to include some extra attractions at our booth — the choice fell on a photo booth with free printouts and a merchandise claw machine. While it was logistically challenging to bring them to Paris (we might have transported the whole photo booth with one of our cars), everything went smoothly.
It is important to note that we used TwitchCon Paris as one of our team's first (almost complete) gatherings, which usually works remotely from all over the world. We were super happy to meet some of the people who enhanced Sound Alerts over the last years and countless meetings for the first time. And yes, our back- and front-end team could also finally connect on-site.
The build-up of the booth took two days in total, and we tried to incorporate the essence of Sound Alerts into every aspect. The preparations for the fair's first day were underway after completing the construction of the purple giant.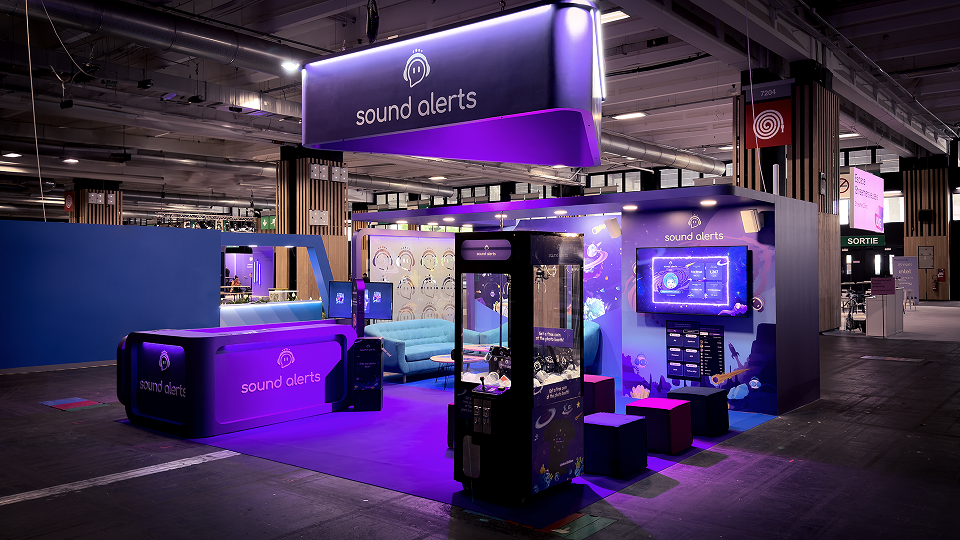 Phase 2 — 2 Days of TwitchCon Excitement
The halls opened, and our team did not know what to expect initially. Still, it quickly became apparent that we were in for some surprises. Almost immediately, TwitchCon visitors took advantage of all our activities. Merch was given out, photos were made, and our signature wall in the back filled up without us even noticing. Many of you wanted to talk to or thank us for the tool, which honestly meant the world to us. It was so great to finally get to meet many of the users of Sound Alerts IRL.
From then on, time flew by, and our team focused on getting all of our swag out to you so that everyone could bring home their own personal Sound Alerts memory. The list of merchandise included an exclusive event shirt, a Sound Alerts shopping bag, Sound Alerts gummy bears, Sound Alerts speakers, and much more. At some moments, the booth was so full that we had to do queue management or pause the photo booth to accommodate the rush. But all this was worth it, and we hope all visitors had a good time.
Phase 3 — TwitchCon Aftermath
We want to be completely honest: You have exceeded all our expectations for this event. We started our return journey with a big smile on our faces because we were overwhelmed by all the feedback and positive feedback about our booth. The event left a great lasting impression and will certainly not be the last time we show up offline.
Again, thanks to each and every one of you for showing up and supporting us at TwitchCon Paris. Our team is focusing on releasing the new HUGE TOP SECRET UPDATE now, which we can unveil later this year. If you want to keep up with the latest news about Sound Alerts and not miss out on new features, you can follow us on Twitter. We'll see you in the next blog post — happy streaming!