The visuals of your stream are essential to the look and feel of your show and define how your viewers remember you. Finding suitable alert animations can be challenging since you can choose various tools for different platforms. In this guide, we want to show you how to utilize the free alert animation portfolio of Sound Alerts, which is compatible with your stream on Twitch and all common broadcast tools.
About Sound Alerts
Sound Alerts is a free, all-in-one tool for your streaming alerts. It allows you to set up a soundboard controlled by your viewers, choose from a library with 400K+ alert sounds, engage with your viewers through Channel Points alerts, make use of text-to-speech, and — most importantly — utilize the huge Alert Animation Store. The setup takes you less than 10 minutes. You can complete it by visiting the Dashboard or using our comprehensive video tutorial.
The best basic Alert Animations for your Stream
Sometimes, you might prefer your notifications to be less bothersome while enjoying your streaming time. Using minimalist alerts with a basic design can help you achieve this goal — Sound Alerts offers many variations of clean stream animations. These are some of them: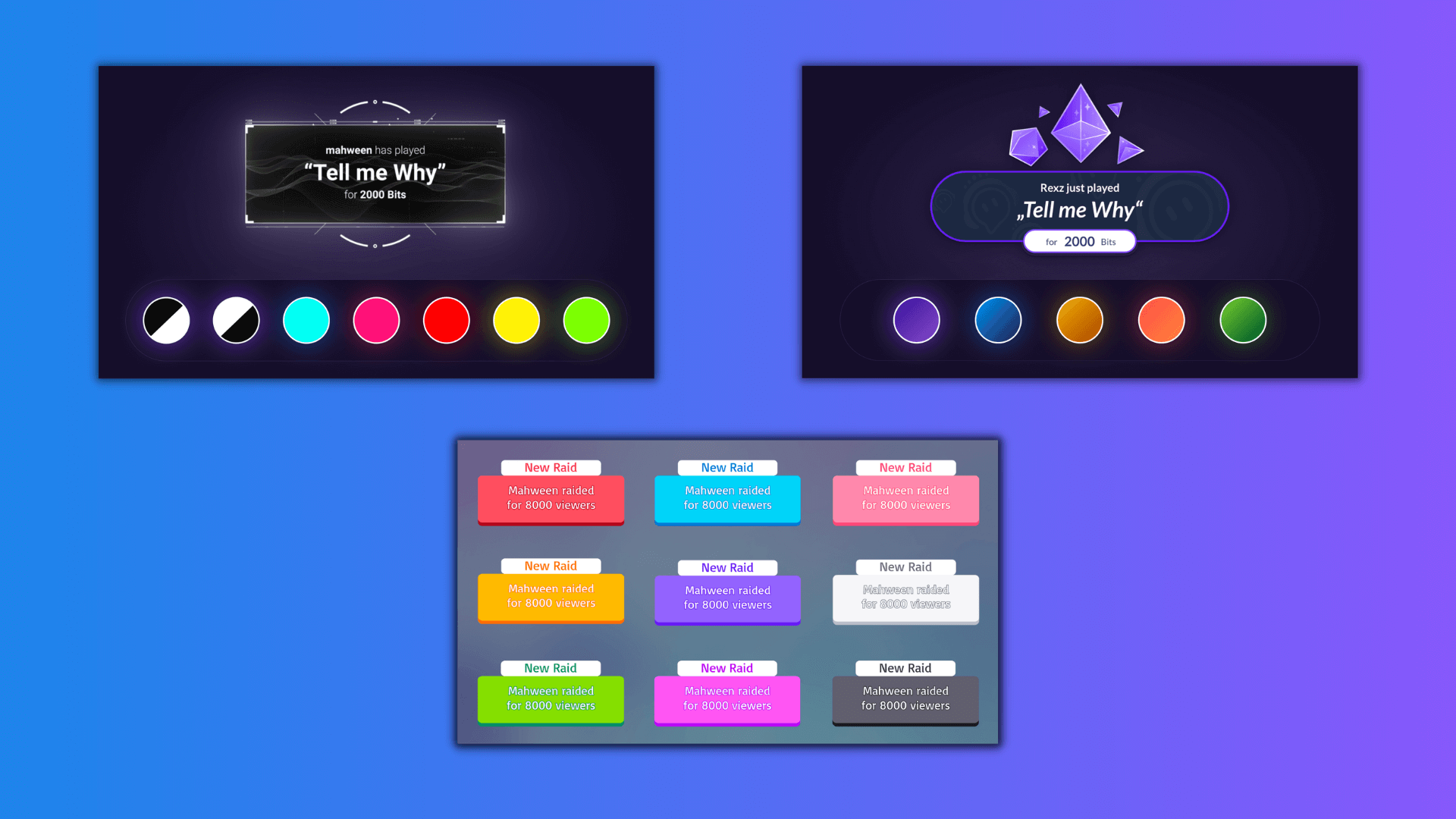 The best cute Alert Animations for your Stream
We understand the importance of setting the right tone for your streams, and that's why we offer a variety of cute alert animations to make your viewers feel at home. From adorable cats to fluffy clouds, our selection will impress with coziness. Take a look at some of the fantastic options available to you:
Flower Alert Animation

— add some plants to your stream overlay and show your green thumb (5 color variations)

Cat Alert Animation

— these furry friends will support you in the stream (6 color variations)

Mail Alert Animation

— transform your alerts into lovely letters from your viewers (5 color variations)
The best unique Alert Animations for your Stream
We're thrilled to offer a fantastic way to elevate your special streams, shows, and events with perfectly fitting alert animations! It's crucial to tailor them to match the vibe and tone of your livestream. Luckily, Sound Alerts has got you covered with free alert animations in various themes like Halloween and retro gaming. We're excited to share some of our most loved choices with you:
Ghost Alert Animation

— enhance your Halloween or horror game streams with our animated ghosts (4 color variations)

Confetti Alert Animation

— add some excitement to your party streams by adding a large amount of colorful confetti (5 color variations)

Pixel Alert Animation

—enhance your streaming journey with the mesmerizing visuals of pixel art from the classic era (4 color variations)
What about other Alert Animations in Sound Alerts?
We are constantly increasing the number of free alert animations available within our portfolio, so follow us on Twitter and not miss out on any of the new releases. Thank you for using Sound Alerts, and — as always — happy streaming!