Hold your !farts and brace yourself: The all-new Sound Alerts dashboard and various fresh features are finally here. Experience Sound Alerts in an entirely new dashboard appearance containing some of the most requested features of our community.
Sound Alerts is an all-in-one tool for alert management and monetization in your livestream. With our free application, you are able to implement a viewer-controlled soundboard and custom alerts for all of your streaming events. This includes follows, Sub Gifts, Raids, Cheers, Hype Trains, and more. The best thing: You can use thousands of sounds from the community library and our pre-designed visual templates for all of them.
Click here to test the dashboard 2.0 beta on your channel: beta.soundalerts.com
This update will include the following changes:
A revamped dashboard design including an improved user interface
Various new alert types including follows, sub gifts, Hype Trains, and more
The new visual Alert Editor which lets you customize the design of your overlays
We are more than happy to finally announce all of these improvements for the Sound Alerts application and will illustrate some of the features further down this blog post.
There is no need to install anything - just visit beta.soundalerts.com (before the 14th of March) to witness our most significant update.
A new Dashboard experience
Within this update, you will experience our revamped dashboard design supporting you with a clear overview of all Sound Alerts features. Manage your alerts in the "My Alerts" section, browse through a multitude of memes and more in the "Sounds" tab and create incredible designs for your alerts in the "Overlays" segment.
More Alert Types
Sound Alerts serves as your all-in-one tool for the alert management of your livestream: Now, you can create alerts for the following event types, all within our dashboard:
Subscriptions
Subscription Gifts
Raids
Cheering
Hype Trains
Follows
Ensure to activate these in the "Other Alerts" tab of the "My Alerts" section. The follow and Raid alerts can also be triggered by streamers without Twitch's Affiliate or Partner status.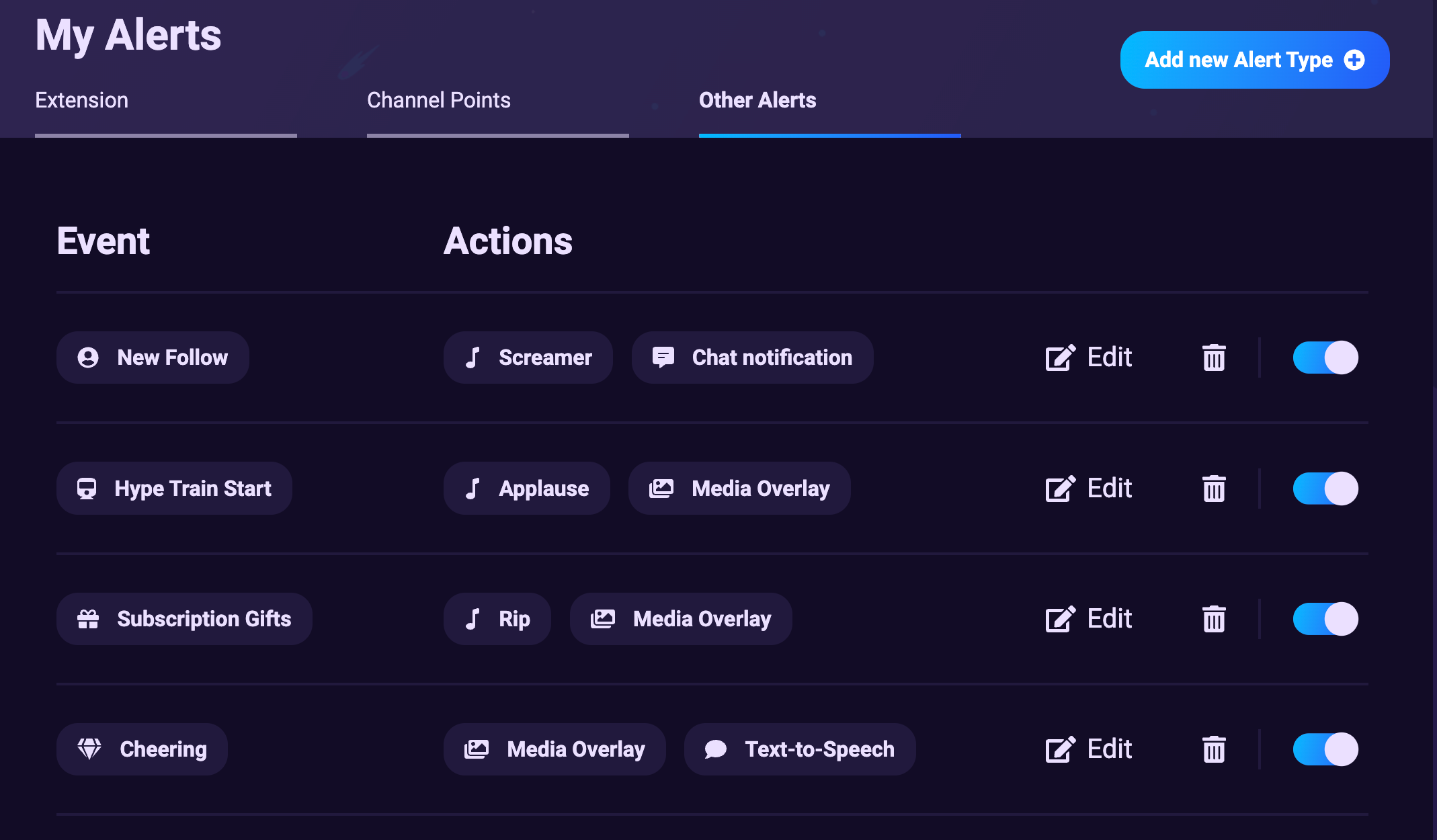 Visual Alert Editor
The "Overlays" section includes an intuitive Alert Editor, which provides you with all the things you need to customize the design of your alerts. You can use existing templates of our design library, create animated text alerts with ease or use the vast GIF library to implement your running gags and memes.
Various other changes and troubleshooting
Besides these major new features, we also improved general usability and smoothed out the user experience to easily set up and use Sound Alerts. If you happen to face a bug or any inconveniences, please message us on our Discord server or visit our Support Center.
Thank you for using our Sound Alerts - we will keep you posted about new features, and updates on the Sound Alerts socials and this blog. Until then - happy streaming!
Changelog
A revamped dashboard design
Customize the visual alerts with images or GIFs of your choice (Requested by Altoar)
You can now individually assign different visual alerts for each alert. (Requested by Aric Zillinger)
You can now hide the visual alert of individual alerts (Requested by XavierOps)
The visual alert is now sized based on the browser source window size (Requested by Altoar)
New alert events added (Subscription, Follow, Raid, Hype Train, Cheering)
Text-To-Speech can be added to Cheering and Subscription alerts to read out user messages (Requested by Jake Hewitt)
A new trending sounds section has been added to the library
Sound duration display has been added to sounds in the library (Requested by Anonymous)
Sounds have now their own URL that can be shared with others (Requested by sassypants1996)
A new "Open Sound" button has been added to the Extension and Channel Points alerts pages that open the sound's window where you can assign the sound to another alert (Requested by GodGid85)
More channel insights have been added such as followers or subscriptions count
The activity feed has been improved.
The activity feed additionally shows the specific date of the events (Requested by h2oQueen)
Chat notifications can now be added to all alert events
You can now disable Sound Alerts status notifications in the settings (Requested by BillyBadassLive)
You can now change the chat notifications delay (Requested by Heresor)